21st SAASTEC Conference will be hosted by the Inkcubeko Youth and Science Centre in George. 11th to 14th November 2019.
Click here for conference information and registration
---
---
Celebrating International Year of the Periodic Table of Elements in 2019.
---
CONGRATULATIONS to Nomusa Keninda for being selected as a Microsoft Innovative Educator Expert for 2018 – 2019. Very well deserved.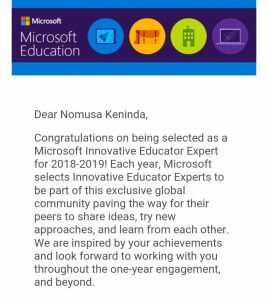 ---
CONGRATULATIONS to Sivuyile Manxoyi for being a finalist in the NSTF Awards 
---
To celebrate Nelson Mandela's Centenary the theme for National Science Week this year is- 'Deepening Democracy through Science': Reflecting on the Role of Science Centres.
---